Whacked Wasp
is a
Series 5
from the
Bin-Sects
. He's an awful and annoying smashed wasp.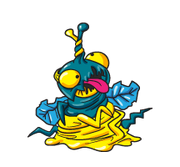 Trashie Rating
He comes in blue (common), white (common), and light lime (common).
Bio:
"If there's a buzzing in your ear which simply won't go away then chances are you've got yourself a Whacked Wasp! This Trashies loves to hide in ears and his favorite food? Ear wax!"
Trash Town Hangout
"Horrible Hives"
Trivia
His white form lacks the bulbs on his antenna stingers on his static art.