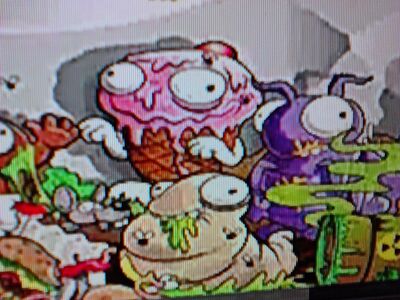 This Unnamed Ice Cream Trashie was never released, but was going to be in Series 1. It can only be seen at the beginning of the Mondo TV Trash Pack short, which also showed the logo with Trashola, instead of Blow Fly and Trash-A-Pillar.
On the official Trash Pack Facebook page, Trash Pack says that it "Melted before it got into the range". If this Trashie was in Series 1, there would have been 169 Trashies avalible, excluding the Limited Editions. It would have most likely been part of The Grubz, or, less likely, been a Limited Edition.
Ad blocker interference detected!
Wikia is a free-to-use site that makes money from advertising. We have a modified experience for viewers using ad blockers

Wikia is not accessible if you've made further modifications. Remove the custom ad blocker rule(s) and the page will load as expected.