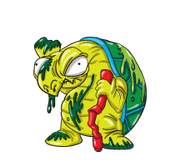 Turd Turtle
is a common Trashie from
Series 5
. He is from the
Sewer Trash
team. He is an old and slimy turtle with a pipe as a cane.
Trashie Rating
Colors: lime #862 common,blue #967 common,white #874 common.
Wave:2
Bio:
"This terrifying turtle has some real icky issues! There's so much gunk in his shoddy shell that he can never retract back in!"
Hangout
Sickly Sewers
Trivia
According to a French-Canadian comic, he is one of the eldest Trashies.
Gallery
Ad blocker interference detected!
Wikia is a free-to-use site that makes money from advertising. We have a modified experience for viewers using ad blockers

Wikia is not accessible if you've made further modifications. Remove the custom ad blocker rule(s) and the page will load as expected.