Trashy Text Book a character in Series 5. He is a part of the School Trash crew. He comes in blue,white and chartruse. He is a text book who is losing his paper. He comes in wave 2
colors: Blue, Common, White Common, Yellow Common.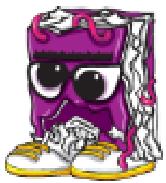 TRIVIA
He has a pun sculpted on him, he's a book, he has worms in him. "Book Worm"