Ad blocker interference detected!
Wikia is a free-to-use site that makes money from advertising. We have a modified experience for viewers using ad blockers

Wikia is not accessible if you've made further modifications. Remove the custom ad blocker rule(s) and the page will load as expected.
Trash Wheels Series 2
is the second series of the
Trash Wheels
line. It was released in February 2014.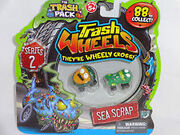 The series was found on an eBay auction.
Products
2 Pack (2 Trash Wheels)
4 Pack (3 visible Trash Wheels, one secret Trash Wheel)
Playsets (possible release May 2014)
Trashies
Blast Offs
Rotten Eggsplorer
Vomit Comet
Slime Shuttle
Splatalite
Goo.F.O
Grotty Rocket
Parasite Patrol
Screech Leech
Slick Tick
Motley Mozzie
Fanged Maggot
Scrape Tape Worm
Bed Bugz
Odour Beaters
Foot Rot
Smelly Sock
Stinkin' Sneaker
Scumboot
Drippy Slipper
Feral Footy Boot
Flying Filth
Fleagull
Jurky Turkey
Vomit Vulture
Pungy Pigeon
Smellicopter
Stealth Stinker
Spin Cycles
Snot Rag
Junk Jeans
Stank Top
Shock Jocks
Foul Towel
Sweaty Sweater
Rat Racers
Movin' Mouse
Racing Raccoon
Screamin' Squirrel
Scramster
Guzzle Gopher
Rat Race
Stinkin' Soda
Chicken Coupe
Moose Mover
Smokin' Sandwich
Gallery