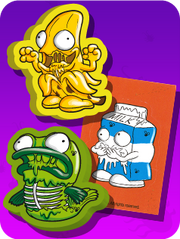 These 2D erasers have all the classic Trash Pack gang on them and have stickers in the pack too.
You get the following when purchasing a pack of these:
1 - Trashie (Series 2)
3 - Trash Pack Eraseez Erasers
2 - Trash Pack Character Stickers
Trashies (Eraseez)
Wasted Banana
Sour Snail
Smelly Fish
Soggy Tomato
Rotten Apple
Garbage Gull
Scum Gum
Trash Rat
Mouldy Milk
Spew-Shi
Blow Fly
Bin Pig 
Ad blocker interference detected!
Wikia is a free-to-use site that makes money from advertising. We have a modified experience for viewers using ad blockers

Wikia is not accessible if you've made further modifications. Remove the custom ad blocker rule(s) and the page will load as expected.