Trash Pack Cartoon (Moose)
Comments

4
605pages on
this wiki
Season 1 is the first series of The Trash Pack Cartoon. It'll most likely become a continuous TV/Computer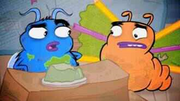 Show. It revolves around the adventures of Blow Fly and Trash-A-Pillar and their friends. 
Characters
Settings
Episodes
Fly Poo is the first webisode and it consists of Trash-A-Pillar learning to fly. 
Blow Fly's friend Mouldy Milk is coming for a visit. When Mouldy pukes on Trash-A-Pillar, Blow Fly offers Mouldy Milk a sesson of "Anti Puke Training "!
Trash A Pillar brings home a new Trashie (Scummy Screen). Blow Fly isn't very happy about this, but after Scummy shows him a humorous viral video, Blow Fly agrees to let him stay. 13 seconds later, Scummy catches a virus, covering Tyre Towers with snot. Scummy sneezes, the sneeze being so strong that it blasts Blow Fly into space. 

Added by

Superace1