Stuffed Chicken is a Series 4 Trashie who is a part of The Grubz team. He's a fat chicken that is stuffed with trash.
Stuffed Chicken

"Plucked, stuffed and seasoned with muck!"

Series:

4

Team:

Grubz

Colours & Rarities:

Orange(Common),Green(Common)and Yellow (Common)

Finish:

Classic

Wave:

1
BIO:
This chicken is stuffed in more ways than one! He might be freshly plucked but he's stuffed full of yuck. And this is one chicken, who doesn't taste like chicken!
Gallery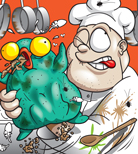 Ad blocker interference detected!
Wikia is a free-to-use site that makes money from advertising. We have a modified experience for viewers using ad blockers

Wikia is not accessible if you've made further modifications. Remove the custom ad blocker rule(s) and the page will load as expected.