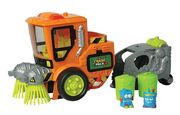 The Street Sweeper is a Trash Pack vehicle which was released alongside Series 2. It comes with a Sweeper and two exclusive Trashies, Crushed Can and Waste Paper. Unlike the two Garbage Trucks, the Sweeper does not transform into a playset, and is just a vehicle with holes to stick Trashies on. The Street Sweeper is very different from the other vehicles, as, while the idea of the Garbage Truck is to be stinky and gross, the Street Sweeper is centered around cleaning up Trashies. It puts Trashies in the sweepers and pops them out from the back in a container. There are bumpers on the front so if you crash the vehicle, the Trashies come flying out of the container at the back.
Ad blocker interference detected!
Wikia is a free-to-use site that makes money from advertising. We have a modified experience for viewers using ad blockers

Wikia is not accessible if you've made further modifications. Remove the custom ad blocker rule(s) and the page will load as expected.