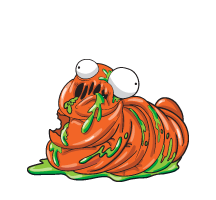 Squashed Maggot is a Trashie from Series 5 ST. He is in the Bin-Sects Team. He is a squished maggot.
Trashie Rating
Colors: Pink (Common), White (Common), Orange (Common)
Bio
"This manky maggot is super sick. He'll eat anything and everything which lands in the trash can which is why this gross guy is such a festering fatty!"
Trash Town Hangout
"Trash Cans"
Gallery
Trivia
The phrase "manky maggot" in his bio would later be used as the name of a Limited Edition Trashie in Series 6.
He is the third trashie to be a maggot the others being Mucky Maggot and Manky Maggot