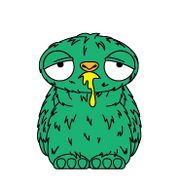 Soft Boiled Sloth is a Series 6 Trashie from the Scrambled Animals. He is a scraggly sloth.
Information
Colours: Dark green (941), Brown (952), Yellow (960)
Rartiy: Rare
Bio
The laziest Trashie in Trash Town is Soft Boiled Sloth, he's always bubbling around hot water and broth. His yolk is runny, which isn't funny and he has a runny nose and a terrible cough.
Trash Town Hangout
Feral Forests 
Trivia
Soft Boiled Sloth's name could have one word changed to make him part of the Hard Boiled Trash Team.
Real life sloths are often teeming with dirty algae and microorganisms, making them a living garbage dump.
Ad blocker interference detected!
Wikia is a free-to-use site that makes money from advertising. We have a modified experience for viewers using ad blockers

Wikia is not accessible if you've made further modifications. Remove the custom ad blocker rule(s) and the page will load as expected.