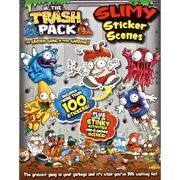 Slimy Sticker Scenes is a Trash Pack activity book. It includes over 100 stickers, plus lots of stinky activities and 6 gross scenes. It is based on the first series.
Official Description
Get ready for hours of slimy fun with this totally gross Trash Pack sticker book! With over 100 stickers, 6 cool scenes to decorate, and tons of stinky activities, kids of all ages will love playing along with all of their favorite Trash Pack characters.
Ad blocker interference detected!
Wikia is a free-to-use site that makes money from advertising. We have a modified experience for viewers using ad blockers

Wikia is not accessible if you've made further modifications. Remove the custom ad blocker rule(s) and the page will load as expected.