Sewer Dump is a playset, that came out in June in the AU. It is one of the biggest playset there were in Trash Pack.
It has a zip cord, a ooze tub where you fill it with liquid ooze, a toilet that can flush trashies down into the ooze tub, an elevator to the toilet, a catapult, a diving board to the ooze tub, a conveyor belt that leads to the elevator, and a slide.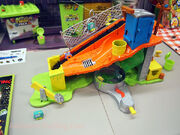 Trashies:
Banana Split
Rotten Apple
Dog Food
Trash Bag
Ad blocker interference detected!
Wikia is a free-to-use site that makes money from advertising. We have a modified experience for viewers using ad blockers

Wikia is not accessible if you've made further modifications. Remove the custom ad blocker rule(s) and the page will load as expected.