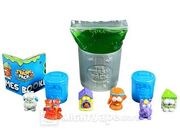 The Liquid Ooze Pack
is a series 3 Pack with contains 6 trashies in Liquid Ooze.It is the replacement of the series 2 fizz bag and series 1 magic bag. In "The Trash Pack Series 3" commercial the ooze slime is 'oozing' all over the trashies.
It also contains a hidden trashie at the bottom but if you focus on it you can see it.
Includes:
Liquid Ooze in Bag
1 large Silver Bin
2 Small Bins
Collectors Guide + Games Booklet
6 x trashies
Ad blocker interference detected!
Wikia is a free-to-use site that makes money from advertising. We have a modified experience for viewers using ad blockers

Wikia is not accessible if you've made further modifications. Remove the custom ad blocker rule(s) and the page will load as expected.