Pizza Delivery

Trash Wheel

Series:

Trash Wheels, Series 1

Team:

Take Away

Colours & Rarities:

Yellow, Dark Yellow (No rarity)

Finish:

Classic

Wave

1

Available In:

Trash Wheels 2 Pack, Trash Wheels 4 Pack
 Pizza Delivery is a Trashie in Trash Wheels series 1. Part of the Take Away crew. He is a moldy pizza slice on wheels.
BIO:
This fully sick pizza Wheelie collects toppings where ever he goes. His cheese is so gooey that when he drives fast, flies and filth stick to his screen! And don't for a second think that's pepperoni…it's not!
Gallery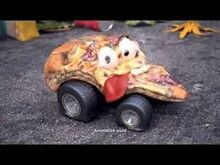 Ad blocker interference detected!
Wikia is a free-to-use site that makes money from advertising. We have a modified experience for viewers using ad blockers

Wikia is not accessible if you've made further modifications. Remove the custom ad blocker rule(s) and the page will load as expected.