Oozy Octopus is a rare Eggs-Cavated Trashie from Series 6.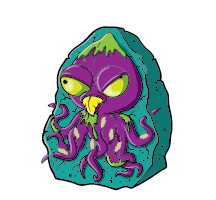 Appearance
Oozy Octopus is an octopus stuck in a rock.
Bio
This Ooze Octopus has eight legs of grossness. Each terrible tentacle secretes sick slime by the second. One hi-five from this Trashie and you'll be drenched in goopy gunk!
Gallery