Off Cheese

'

Series:

Gross Ghosts

Team:

The Grubz

Colours & Rarities:

Red, Common

Finish:

Translucent/Ghost

Wave

1

Available In:

Gross Ghosts 5 Pack, Gross Ghosts 12 Pack

Units Available

????

Number

None
This is a special version of Off Cheese from Series 1.
Trivia
His Bio could be the same as the Bio when his was alive.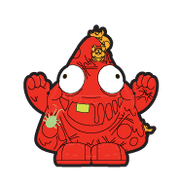 Ad blocker interference detected!
Wikia is a free-to-use site that makes money from advertising. We have a modified experience for viewers using ad blockers

Wikia is not accessible if you've made further modifications. Remove the custom ad blocker rule(s) and the page will load as expected.