Manky Mucus is a rare Vicious Virus Trashie from Series 7.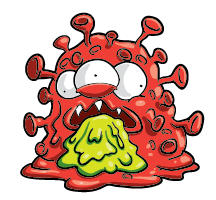 Appearance
Manky Mucus is a blob of mucus that is covered with tendrils with 3 eyes that is vomiting.
Bio
Manky Mucus is always sliding through drains and grates which is bad news for who or whatever is below, he can't help it though as there's no tissue big enough to hold on to this huge lurgy!
Gallery