Hard Drive is a
Trash Wheels
character from series 1. He is part of the
Rust Buckets
team. He is a crazy Laptop.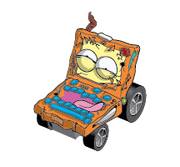 Bio
Error…Error is the only thing that this Wheelie can say. He got a virus years ago and his brain has never been the same since! He gets so keyed up before a big race though that he's become some tough competition!
Trivia
His name is a pun on hard drive.
Ad blocker interference detected!
Wikia is a free-to-use site that makes money from advertising. We have a modified experience for viewers using ad blockers

Wikia is not accessible if you've made further modifications. Remove the custom ad blocker rule(s) and the page will load as expected.