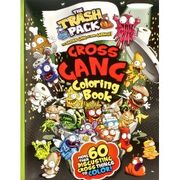 The Gross Gang Coloring Book is a trash pack coloring book with more than 60 disgusting gross things to color. It is based on the First Series of Trashies.
Official Description
The gross gang in your garbage is back and grosser than ever with this totally cool coloring book! Perfect for on-the-go entertainment, kids of all ages will love coloring along with their favorite Trashies.
Ad blocker interference detected!
Wikia is a free-to-use site that makes money from advertising. We have a modified experience for viewers using ad blockers

Wikia is not accessible if you've made further modifications. Remove the custom ad blocker rule(s) and the page will load as expected.