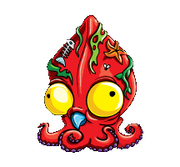 Giddy Squid is a Series 3 Color Chang.er Trashie. He is a gross squid and is a part of the B.in Critters team. He comes in yellow, white, and blue.
"It's a Trash. Splash!"
(Trading Card Line)
Bio
Giddy Squid has a special putrid power! He has the longest, tackiest tentacles in Trash Town. They can creep and crawl there way into any bin, looking for the soggiest, grossest trash he can find.
TRASH TOWN HANGOUT
Junk Food Shops