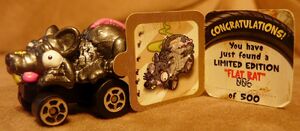 Flat Rat is a Limited Edition in the Trash Wheels line.  He is a rat thats been ran over. He is the rarest limited edition Wheelie. Similer to trash cat.
Number available : 500
Bio
Driving disease from down in your gutter. His engines are sure to give you a cough and splutter He's the dented rodent full of festering fumes the vile vermin of vroom, zoom and hoon!
Ad blocker interference detected!
Wikia is a free-to-use site that makes money from advertising. We have a modified experience for viewers using ad blockers

Wikia is not accessible if you've made further modifications. Remove the custom ad blocker rule(s) and the page will load as expected.