Fitness Flu is a common Sports Germs Trashie from Series 7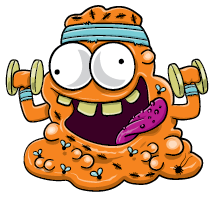 Appearance
Fitness Flu is a germ wearing a sweatband holding 2 dumbells with his tounge sticking out.
Bio
Beware of this Trashie! Unlike the real flu this fever can take hold at any time of year! He's so gross and germy that if you're in the same room you'll be headed to your doom!
Gallery
Ad blocker interference detected!
Wikia is a free-to-use site that makes money from advertising. We have a modified experience for viewers using ad blockers

Wikia is not accessible if you've made further modifications. Remove the custom ad blocker rule(s) and the page will load as expected.