Dusty Rug



Series:

4

Team:

Hard Rubbish

Colours & Rarities:

Purple (Special Edition),Grey (Special Edition) and Green (Special Edition)

Finish:

Biter

Wave:

1
Dusty Rug is a Series 4 Special Edition Biter Trashie from the Hard Rubbish team. He and Gooey Souvlaki  can stretch their mouths the widest. He's an old slimy rug.
BIO:
Rumour has it that when this rug was taken outside, it caused a dust cloud that crossed an ocean. This rotten rug is so dirty that even he doesn't know what colour he used to be!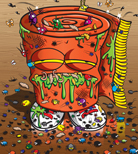 Ad blocker interference detected!
Wikia is a free-to-use site that makes money from advertising. We have a modified experience for viewers using ad blockers

Wikia is not accessible if you've made further modifications. Remove the custom ad blocker rule(s) and the page will load as expected.