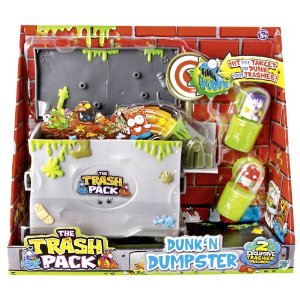 The Dunk 'N Dumpster is a playset that was released alongside Series 2. It comes with 2 Exclusive Trashies, Slime Bucket and Mouldy Mushroom and has holes to place your Trashies in. The concept of this set is to try to hit the target and dunk the Trashies. The back of the packaging shows Slime Bucket standing in a bucket and Mouldy Mushroom is seen hitting the target, hence his big head.
Trivia
Even though it's a Series 2 release, it includes Series 1 trash cans for the Trashies.
Ad blocker interference detected!
Wikia is a free-to-use site that makes money from advertising. We have a modified experience for viewers using ad blockers

Wikia is not accessible if you've made further modifications. Remove the custom ad blocker rule(s) and the page will load as expected.