Dirty Dumbbells is a common Sports Germs Trashie from Series 7.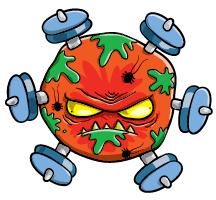 Appearance
Dirty Dumbbells is a ball shaped germ covered in slime with 6 weights sticking out of him.
Bio
Weighed down with grime and slime, this is one really heavy stinker! Once upon a time he was the king of the gym but now he's a broken bell lying, festering exactly where he fell.
Gallery