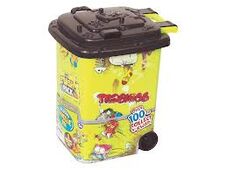 The Collector's Wheelie Bin was released alongside Series 3 in Australia. It will most likely be released with Series 3 Wave 2 in the US. It comes with 2 exclusives Trashies, Pooey Rooey and Atomic Pizza.
The Collector's Wheelie Bin is a miniature version of an actual wheelie bin, and features images of Series 3 Trashies on the sides. The top of the bin contains bumps where you can place your Trashies. The wheels on the bottom enable the bin to be rolled like a real bin. The hinged lid opens to enable more than 75 Trashies to be stored. 
Exclusives
Pooey Rooey and Atomic Pizza are exclusive to the Collector's Wheelie Bin. Pooey Rooey is a three-eyed mutant boxing kangaroo, while Atomic Pizza is an irradiated rotten pizza slice. Pooey Rooey is a female kangaroo, as she possesses a pouch containing a three-eyed joey.
Gallery
Trivia
Unlike Putrid Pizza, Atomic Pizza is a right-side up slice of pizza, while Putrid Pizza is an upside down slice of pizza.
Ad blocker interference detected!
Wikia is a free-to-use site that makes money from advertising. We have a modified experience for viewers using ad blockers

Wikia is not accessible if you've made further modifications. Remove the custom ad blocker rule(s) and the page will load as expected.