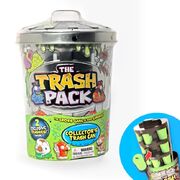 The Collectors Tin is a Series 1 playset that makes it easier to store Trashies in. It can fit up to 120 Trashies or 18 trash cans. It also comes with a plastic bin holder, for storing your trash cans. Two exclusive Trashies, Spew Shi and Skummy Skull, were included in the Collector's Tin.
Gallery
Trivia
The black variant of the Collector's Tin comes with two glow in the dark Trashies, Slime Bucket and Mouldy Mushroom, and two red Trashies, Gutter Grub and Ear Wax Ball.
Ad blocker interference detected!
Wikia is a free-to-use site that makes money from advertising. We have a modified experience for viewers using ad blockers

Wikia is not accessible if you've made further modifications. Remove the custom ad blocker rule(s) and the page will load as expected.