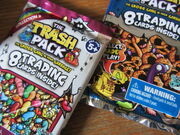 Series 4
trashies and are available at Toy World, Australia (for now).The packaging is slightly different and the special editions are lenticular and the limited editions are holographic. Oozey Noodles replaces Rotty Pop on the top right corner in blister packs.
Images have not been uploaded yet and not on the Official Trash Pack website. Photos should be uploaded soon.
The bottoms of the cards are red instead of blue.
The collector's tins are: Mushy Peas, Smelly Deli, and Stray Dog Food.
The dice are: Orange, black and yellow.
Ad blocker interference detected!
Wikia is a free-to-use site that makes money from advertising. We have a modified experience for viewers using ad blockers

Wikia is not accessible if you've made further modifications. Remove the custom ad blocker rule(s) and the page will load as expected.