Clogged-up. Calculator is a Series 5 ST from the School Trash team.He is A Calulator with his buttons falling out and his eyes poping out.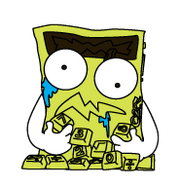 Trashie Rating
colors: Yellow Rare, Green Rare, Orange Rare.
Bio
The School Trash is not featured on thetrashpack.com.
Trivia
He could have had a glitch and got thrown out for being useless, or he could have had his batteries rot inside of him, they most likely were the trashie Zapper.
Ad blocker interference detected!
Wikia is a free-to-use site that makes money from advertising. We have a modified experience for viewers using ad blockers

Wikia is not accessible if you've made further modifications. Remove the custom ad blocker rule(s) and the page will load as expected.