The Blazing Fire Station
The Blazing Fire Station is a Trash Wheels playset. Is available now in Australia alongside the Sewer Croc Escape and the Junk Jail. It costs 15 dolars.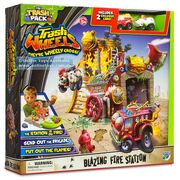 Set information
The set comes with Poo-lice Jailhouse and 2 exclusive Trash Wheelies. It has an axe to make sure the bandit does not get out however the jail house is not closed. Set comes with a
Doo-mation
and a fire truck looking
Trash Wheels
.
Ad blocker interference detected!
Wikia is a free-to-use site that makes money from advertising. We have a modified experience for viewers using ad blockers

Wikia is not accessible if you've made further modifications. Remove the custom ad blocker rule(s) and the page will load as expected.