Battered Bat is a common Scrambled Animals Trashie from Series 6.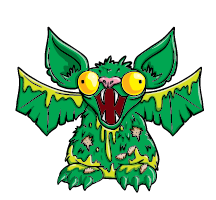 Appearance
Battered Bat is a bat covered in slime with mangled fur.
Bio
This bat is certain to get stuck in your hair…even if you're bald. His feet are so sticky and icky that if he's flying low he will pick up anything he comes into contact with, and if you're wearing a wig? Well he'll take that too!
Gallery