Barf bq is a grill with rotten meat on him and a dumb look on his face from Series 3. He is from the hard rubbish team.
He comes in the colours: Red, blue, and yellow.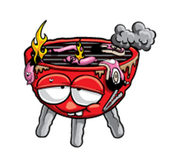 "Throw another off shrimp on the barbecue"(Trading Card Line)
BIO:
If you want a sickly sausage, a harmful hamburger or a steak mistake - then Barf BQ can cook you up a storm. You're bound to get feral food poisoning from anything he can serve or throw up!
Hangout:
Bad Back Yards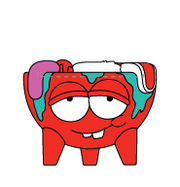 Ad blocker interference detected!
Wikia is a free-to-use site that makes money from advertising. We have a modified experience for viewers using ad blockers

Wikia is not accessible if you've made further modifications. Remove the custom ad blocker rule(s) and the page will load as expected.