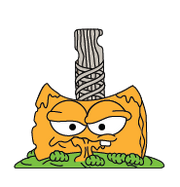 Axi-Dental. Axe is a. Trashie in. Series 6. He is a gross Stone Age Axe.
Trashie Rating
Colors:, Orange, Common, Lime, Common, Blue, Common.
BIO:
"This .Trashie's edge is so blunt that he couldn't even chop jelly. Chipped and eroded, this axe should really be in a museum…a museum for gross and goosome objects!"
Trash Town Hangout
"Shoddy Sheds"
Trivia:
You Can Stick Other Trashies On Top Of His Handle.
You Can Also Use Him To Try To Attack Other Trashies.
His name is based off an Acidental Axe.
Ad blocker interference detected!
Wikia is a free-to-use site that makes money from advertising. We have a modified experience for viewers using ad blockers

Wikia is not accessible if you've made further modifications. Remove the custom ad blocker rule(s) and the page will load as expected.